Hill-Rom Hospital Beds are innovative, working to provide you with the right products that deliver the highest quality care. Our 10-Step Reconditioning Process ensures you get the same quality and performance. Piedmont Medical, Inc. is the leader in reconditioned Hill-Rom Beds and Stretchers.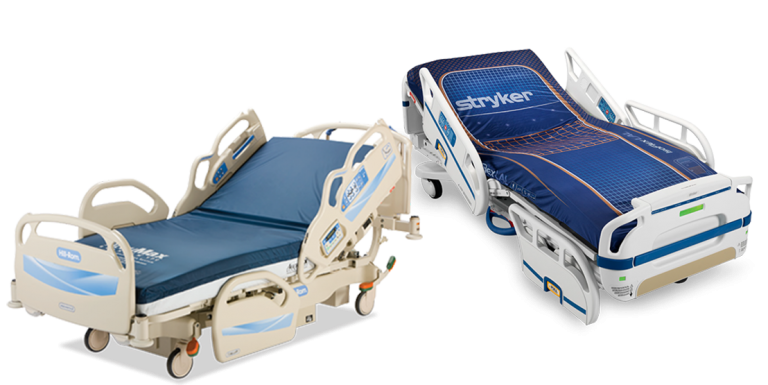 Rising to the demand of healthcare professionals, Stryker Hospital Beds are designed to assist caregivers, ensure safety, maximize efficiency and enhance the patient experience. Piedmont Medical, Inc. takes great pride in continuing that same spirit by reconditioning our products to the standards they hold so high.

Reconditioned Hospital Beds​
As the marketplace leader for reconditioned hospital beds, Piedmont Medical takes pride in offering the largest stock of refurbished medical beds of any dealer in the US. We cater to diverse medical care needs by providing our customers with an unmatched selection of Hill-Rom hospital beds and Stryker medical beds.
We put each bed through our meticulous 10-step reconditioning process to remove, repair, and replace components as needed. We clean and sand the bed frame; check its electrical safety; and professionally paint the frame, arm rails, and pans. Our process ensures the safety, performance, and sleek appearance of these reconditioned hospital beds.
Buying refurbished hospital beds from Piedmont Medical is a smart investment in essential medical furniture. Shop with us today to experience the difference our meticulous attention to detail makes.

Being the leader in reconditioned hospital beds, Piedmont Medical, Inc. has a rigorous 10-step process to ensure all the beds we sell adhere to the highest of standards.
State of the Art Reconditioning Process
The hospital bed frame is visually inspected for bent or broken parts.
Any bent or broken parts are repaired or replaced so that operating features function properly.
The hospital bed frame is completely disassembled.
The hospital bed frame is cleaned. All stickers and/or decals are removed, if necessary.
The hospital bed frame, arm rails and pans (if applicable) is sanded completely in a separate room.
The hospital bed frame and parts are then cleaned again to remove any dust or dirt.
The hospital bed frame, arm rails, and pans are painted in a professional paint booth. If necessary, they are baked dry. They are left to dry for 24 hours before they are touched again.
The hospital bed frame is then reassembled to include the following NEW parts, IF NECESSARY: *OEM casters and assembly for new brake and steer *Plastic wheel covers and arm rail plastics *Head and Foot Boards with your choice of inserts in each *Labels and/or decals *Capacitors and motor grease is replaced *Couplers
The circuit boards are tested with 1 year replacement warranty.
A final inspection of the hospital bed operating features is rechecked and electrical safety tested to ensure the hospital bed is performing to manufacturers standards.
The hospital bed is shipped and wrapped in protective plastic. It is then blanket wrapped and can be positioned in custom stands for stability. Head and foot boards are shipped in boxes unattached to the hospital bed frame.