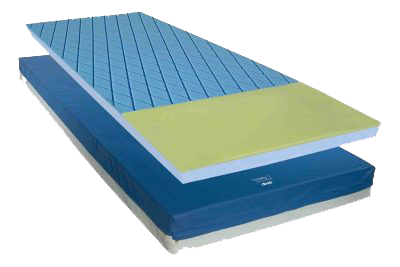 Reconditioned Hospital Bed Mattresses
Need a mattress? Piedmont Medical, Inc. has a great inventory of hospital bed & stretcher bed mattresses. If you already have Hill-Rom and Stryker beds and stretchers, we have the perfect Hill-Rom and Stryker mattresses to match.
Our mattresses provide patients with optimum comfort and support; therefore, our inventory of medical bed mattresses and Stryker stretcher mattresses addresses diverse patient needs.
Pressure sores are a serious concern for bed-confined patients. They are often painful and may lead to secondary conditions, such as sepsis and cellulitis. Our long-term care hospital bed mattresses offer pressure redistribution to promote better circulation and prevent pressure sores.
Stretcher mattresses are easy to clean and maintain, allowing your facility to promote hygiene that safeguards the health of patients and medical care teams. In our selection, you'll find Stryker stretcher mattresses that support patient comfort and efficient care.
Our selection of mattresses fits Hill-Rom and Stryker beds and stretchers seamlessly. Our mattresses for reconditioned hospital beds come in various thickness options so that you can personalize your furniture to suit your patients. Shop with us today for medical bed mattresses that allow you to deliver excellent care.

Being the leader in reconditioned hospital beds, Piedmont Medical, Inc. has a rigorous 10-step process to ensure all the beds we sell adhere to the highest of standards.
State of the Art Reconditioning Process
The hospital bed frame is visually inspected for bent or broken parts. Any bent or broken parts are repaired or replaced so that operating features function properly.
The hospital bed frame is completely disassembled.
The hospital bed frame is cleaned. All stickers and/or decals are removed, if necessary.
The hospital bed frame, arm rails and pans (if applicable) is sanded completely in a separate room.
The hospital bed frame and parts are then cleaned again to remove any dust or dirt.
The hospital bed frame, arm rails, and pans are painted in a professional paint booth. If necessary, they are baked dry. They are left to dry for 24 hours before they are touched again.
The hospital bed frame is then reassembled to include the following NEW parts, IF NECESSARY: *OEM casters and assembly for new brake and steer *Plastic wheel covers and arm rail plastics *Head and Foot Boards with your choice of inserts in each *Labels and/or decals *Capacitors and motor grease is replaced *Couplers
The circuit boards are tested with 1 year replacement warranty.
A final inspection of the hospital bed operating features is rechecked and electrical safety tested to ensure the hospital bed is performing to manufacturers standards.
The hospital bed is shipped and wrapped in protective plastic. It is then blanket wrapped and can be positioned in custom stands for stability. Head and foot boards are shipped in boxes unattached to the hospital bed frame.